Environment ~ Conditions ~ Activity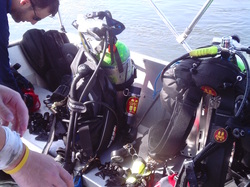 To safely enjoy SCUBA, special consideration must be taken when it comes to gear selection. Some innovative features can greatly improve the safety and enjoyment of diving – however, it is best to understand the environment, conditions, activities and personal skill (as well as your buddy's skill level) before selecting gear and making major purchases. Consider the following.

Environments: Tropical (80 degrees +), Temperate (70-80 degrees), or Cold (69 degrees & below).
Location: Shore, Boat, Terrain, Depth, Cave
Conditions: Night, Low Vis, Currents, Wave, Surf
Activities: Recreational, Hunting , Professional, Construction Work, Caving, Technical, Photography, Videography, Teaching
Travel plans: Flying? Consider weight restrictions. Boat? Consider space restrictions. Shore? Consider storage issues.
---
Several Recommendations
"Discounted gear packages" typically do not take the individual diver or the type of diving that you will be doing into consideration. Gear should correspond to the environment, conditions, and activities you will be doing, as well as your skills level. Therefore, we suggest purchasing items separately.
Add only one new piece of gear per dive and arrange for a confined water practice run before going on a Open water dive.
Research should include looking at different brands, comparing product features, and understanding how each feature impacts and improves your dive.
Talk to divers who have experience in the type of diving in which you plan to participate. Ask what they have used, liked, disliked. What products have they found to be durable?
Most importantly, check local retailers' ability to support your product. Has the support staff been trained to service and repair your gear? If not, you could encounter warranty issues.
Is your warranty void if you miss a year of service, even if it was not used at all?
Ask about labor costs for service.
Be cautious of service kits. Some regulators are priced low, but the service kits are high (a back- loaded price scheme).