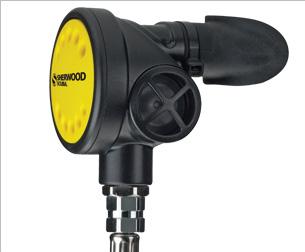 Sherwood Dual Octo
SKU:
$117.00
$117.00
Unavailable
Sherwood's New Dual Octo is a great addition to any diver's gear bag. This new Octopus, just as the name indicates, allows the
mouthpiece to be installed in two separate positions and allows any diver maximum comfort, and never sacrifices Sherwood's history of reliability and durability. Your Octopus should be simple and reliable. The Sherwood Dual Octo is. In fact, it is so simple you don't need to decide whether you want a left-handed or right-handed version. With this design it
doesn't matter. The unique patented design of the Dual Octo positions the hose so that you can handle it with equal convenience from the left or right side. Additionally, the Dual Octo mouthpiece can be positioned for a traditional 90-degree angle with the hose or to lay flat against the body. All it takes is a simple alteration that can be quickly performed by your professional Sherwood dealer. There are no additional parts involved, only a repositioning of the mouthpiece. Of course this regulator has been designed to match the rugged reliability that has become so strongly associated with Sherwood. The Dual Octo features Dual silicone exhaust valves for easy clearing in any position, Smooth easy breathing, 37-inch hose for easy sharing, Ambidextrous utility, Dual-position mouthpiece and a Two-year warranty.