>
Atomic Z2 First and Second Stage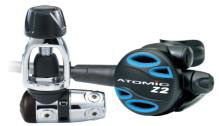 Atomic Z2 First and Second Stage
SKU:
$399.00
$399.00
Unavailable
The combination of performance, ergonomics, features and materials found in the Z2 adds up to the most cost effective regulator option, without compromising performance or durability. The chrome plated brass first
stage comes with a fixed 7 LP ports and 2 HP ports. The second stage houses corrosion resistant zirconium coated brass and titanium components.
Available in Gray or Blue and also DIN or Yoke assembly.