>
Atomic X1 fin, Blue S with Akona standard low top boot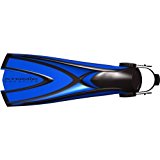 Atomic X1 fin, Blue S with Akona standard low top boot
SKU:
$151.95
$119.95
$119.95
Unavailable
​A new high-performance Atomic Aquatics fin. The new X1 Blade Fins are designed with a firmer blade for "ultimate power" general purpose diving, tech diving, extreme applications and alternate kicking styles. Ultimate power with every kick.
The Atomic X1 BladeFin combines a solid internal frame and firmer, shorter blade design to maximize kicking power and raw thrust. Optimal performance for general diving and alternate kicking styles such as helicopter, scissors, backwards, flutter and flog-kicks

AKONA 3.5mm Low Top Boot
3.5mm nylon II neoprene with glue and blind stitched seams for a superior water seal. Airprene side panels allow for water to drain while providing protection and warmth. Redesigned to provide a better fitting, warmer dive boot. ​​