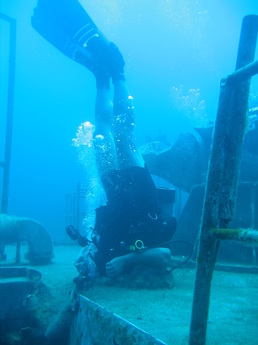 Lenny Waddell --- the Man that started it ALL...R.I.P.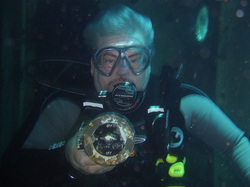 You always hear about legends, well this man was definitely a SCUBA legend. His heartbeat beats in thousands of divers around the globe, especially in Atlanta Area. He was a card caring diver of every agency. So to say he knew it all was an understatement. To talk to the man you would never know he was a know it all, his patience of Job, his ability to convey the importance of a skill or his just down right sweet disposition made everyone respect, love and adore him.

He was and will always remain the heart and soul of my families passion for the ocean and scuba. And others will forever know they were given a piece of him to last a lifetime, as well as skills and appreciation for the ocean to share with their fellow divers and family.

---
Devin Waddell - AES Dives Founder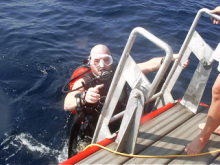 Devin began his love of anything aquatic sitting on the banks watching his dad's dive club "The MUD CATS" explore the depths of every spring, quarry, lake and mud hole in which they could raise a flag. His first open water dive was on Buford Dam when he was about 8 and has been diving ever since (few short breaks for life and wallet). Not taking Diving too seriously - Severed Our great Nation in the ARMY from 1985-1989 in Military Intel. worked construction, Traveled the worlds as a Quality Assurance Engineer. The call of the sirens or (atleast 1 particular ~ Genette ~) became too strong to resist in 1991 he began a journey to become a Dive Instructor. Devin is currently employed full time as a Sr. Dive Master for the Georgia Aqaurium and Founder of The Aquatic Explorers Society.

Certifications earned: NAUI Course Director, HSA Instructor, DAN Instructor, NAUI Life Guard, USA Swim Coach, NYFC Football coach.
---
Genette Waddell - AES Dives Founder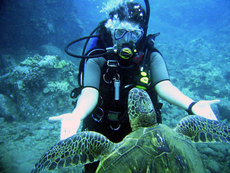 Genette has always been a water bug, her dad made sure. With his back ground in Life Guarding and water safety, he instilled early on in the confines of a back yard pool , local creeks and lakes the value of being a strong, safe swimmer with skills in water safety. Genette took it from there.

Genette began SCUBA Diving in 1991. As her experience grew so did her certification level. She became an SCUBA Instructor Trainer certified through NAUI worldwide. Later, she wrote the Standards allowing NAUI Leadership to teach swimming lessons, coach swim teams and Guard any supervised aquatic venue.

In addition to NAUI Instructor Trainer, Genette has held YMCA, Red Cross and USA swim coach certifications, as well. Taking many students from not being able to swim to competitive Levels. Her passion is apparent - attend one class and you'll know.
---
Hayden Waddell - AES Dives Founder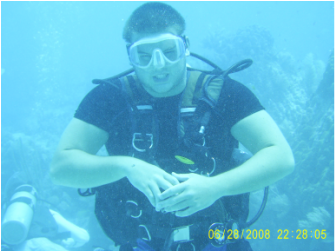 Hayden has followed in his parents foot steps. Swimming & SCUBA. He has attained the NAUI certification level of Dive Master & Assistant Instructor as well as WSI Swim Instructor and Life Guard. While working his way through college he can be found at swimming holes and dive sites all around Georgia.

Anytime this young man is on a dive with you, you can bet you are in good hands. A definite heart as big as his grandfather and skills honed since he was a baby.
---
Rhya Waddell - AES Dives Founder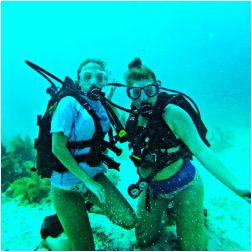 Rhya the spitting image of her mama has grown up in a world of SCUBA divers. She has more Aunts, Uncles and Grandparents than anyone alive, I believe. With ever class that came through our shop, Rhya touched each one and helped them become a part of our dive family. You will always find her with a friend, showing them her world!

This lady is definitely one you want with you when you are around the water. As a teen, parents would ask, "Can Rhya go to the Lake, rafting, pool, even on vacation, to help us with our kids." Her ability to keep people safe, to anticipate what will happen and prevent is remarkable. Her parents and late Grandfather can not be more proud of her.
---
Kell Waddell - AES Dives Founder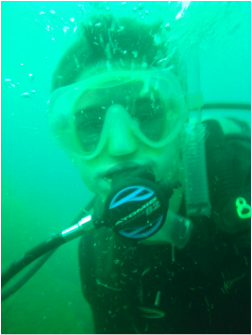 Kell was born into the scuba world from day one, he never had a chance. From the beginning, he was in the water and truly is a water baby. He grew up with hundreds of Grandmas in our water fitness classes and hours upon hours of playing in the pool. Other kids would be stuck to the TV or games, Kell would be doing bobs across the pool or planning the next pool party with all his friends.

Kell performed as a rescue dummy in lifeguarding classes and scuba classes since he was 4 years old. At four years old he could rescue his father off the bottom of a 10 foot pool and put him on a rescue tube, swim him to the side and tell other how to get his dad out of the water and call 911. So when I tell you this kid is someone you want with you when you are on, in or under the water, I do not lie or stretch the truth in any fashion.

---